Trusting God in hard times.
As a Christian, it's so easy to say that we trust God. But what about trusting God in hard times? What happens when life doesn't go the way we would like or the way we expected? Maybe you have had a bad medical report, a relationship falls apart or lost a business. Is God still trustworthy and is He still good when something doesn't go the way we wanted? It's easy to trust God in the good seasons of life, but is that really trust? Are we really trusting God through trials?  Knowing exactly the way a situation is going to turn out is not trust.
In life, there are times when some things just don't make sense. I've found that if I based God's goodness and faithfulness on a snap shot of certain moments of my life, it would be very difficult to trust Him and believe that He is still good. There have been days when things didn't go the way I expected or trusted God for. But as I look back on my life, I can see the goodness and faithfulness of God in it.
I'm learning that trusting God and faith in God is not about a moment, it's about a lifetime. It's about a track record of seeing God come through in the past. Seeing God honour His word in my life, even through the days of disappointment, gives me faith that He can do it again. For me, my trust in God is based on His word and His faithfulness to perform His word. Jeremiah 1:12 tells us that God watches over His word and is faithful to perform it.
Time and time again, I have seen God come through for me in impossible looking situations and the Bible tells me that He doesn't change (Hebrews 13:8). So just because there have been moments of bad reports or negative situations, it doesn't change the nature of God or His ability to redeem any situation in my life. So in tough times I need to remind myself that if God healed, delivered or redeemed me in the past, then He is well able to do it again.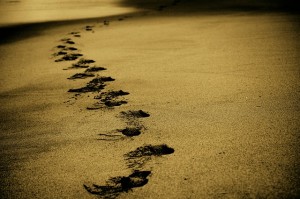 So why is it so hard to see the Goodness of God when walking through a trial?
To be honest, I don't really know. I know James 1 says that we should consider it all joy when we face trials, but in reality, that is not always easy. I think sometimes we can become so consumed with an illness, a report, a relationship, that it becomes the object of our attention. It becomes all we focus on and in that time all that we see. However as God brings us through the situation, we start to see it from a new perspective. We see that He was with us in it, He was holding our hand all the time and we see that He walked us through that valley. Sometimes looking back it's easier to see the Goodness of God than looking forward.
To walk through hard seasons, trusting God takes courage. But is courage never being scared, never feeling exposed or vulnerable? I don't believe never being scared is courage.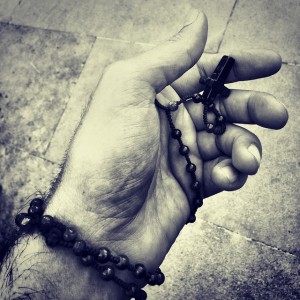 Courage is choosing to trust that God can somehow work this situation out even when we see no way and don't understand.
As some of you are aware, I have been facing some health challenges over the last 7 months. You can read more about that here. During that time there have been quite a few moments that went the opposite way to what we had prayed or expected. Truthfully that has been tough for me to accept and tough for me to process. But I'm realising that my faith in God is not based on a worldly report, it's based on a report in His word. Now I'm not denying the reports I have been given but my faith is not in them. My faith is in the report of the Lord and it's His report that I choose to believe. I've come to the point, where I need to switch off my mind and switch on my faith. I don't currently understand the "why?" but the more I seek an answer to the "why", the less I understand. The less I understand, the more I feel out of control, and the harder I find it to trust God. There will be times I don't understand, but God promised me peace that transcends all understanding (Philippians 4:7). Sometimes when trusting God in hard times, we need to give up our right to understand everything, turn on our faith, trust Him and receive His peace.
God is faithful and He knows us, He formed us in our mother's womb (Psalm 139), He created us, He saved us, He called us and He knows how to redeem us. He knows how to work all things for the good of those who love Him (Romans 8:28).
God is a good God and as I remind myself of what He has done in my life, His goodness is so evident. Right now in my current situation, it's a little harder to see His goodness, but I'm choosing to take courage, put my quivering hands in His big, steady hands and trust Him. He is the same God who saved me, healed me, delivered me, set me free in the past, He hasn't changed. If He did it before then He can do it again and I make a choice to trust Him.
I encourage you, to look to Jesus and trust him. If you are in one of those moments that didn't go the way you wanted, remember to look back and remind yourself of all the times you have seen God's goodness. He is good and He is faithful.
Lots of love
Byron
If you enjoyed this please share it
If you enjoyed this post, check out some of my other posts. Faith and fear, Is God still good when life doesn't seem to be?, No fear in the midst of chaos, Need to help reading the Bible?
Byron is the author of Testimonies of a Good God book. A true story of struggle and yet great victory in Jesus. 
Save